It's 11.20 am and this 43-year-old writer and Lincoln City fan is actually nervous.
Not a lot makes me nervous, I'll confess, but interviewing footballers does. I get it whenever I do a programme interview, the deep knot in my stomach that I'll ask a stupid question or the subject won't be receptive to me. For me, footballers are still heroes, even though most are half my age.
Today is even worse for nerves because the subject is Mark Kennedy, the new Lincoln City Head Coach. What's worse is that his other media commitments delay our interview by almost 30 minutes. Luke from the club is hugely apologetic, but it does make me happier; it sounds like Mark is a talker.
It turns out he is a talker, but not a waffler. When we do get on the Zoom call and the camera turns to him, he's relaxed despite the other engagements he's been through. I don't want to replicate what you'll hear on Radio Lincolnshire over the coming days, but you have to have a basic starter for ten. How is he settling in?
"I'm really pleased to be here," he says with genuine warmth in his voice. "I feel really privileged to be here, to be given the chance to come to such a fantastic club and I'm just looking forward to getting my hands dirty and getting stuck in."
It doesn't feel like hyperbole. Of course, he's not going to say anything else, but it's not what you say in these instances, it's the way you say it. Mark seems to me to be genuine, right from the get-go. I can't stress enough how relaxed and at ease he looks, speaking with a genuine passion, but not slipping into cliches. It's hard though, because when we broach the subject of what attracted him to Lincoln, he delivers the same reasons as our previous two managers did in 2016 and 2019.
"I think ultimately there has to be a connection between yourself and the people you're talking to, and it was really evident for my first meeting that there was that instant connection. It was evident the more we spoke about various different things, visions, where you see the club, what you want the game to look like, the potential to grow, the areas that we want to focus on and where the club feel I can help to maximise that."
From National League to League One, the same things attract people to Lincoln City in terms of personnel, but the club itself has come a long way. There's certainly more in place than the first recruitment drive Clive Nates was involved in back in 2016, which Mark then alludes to.
"When I looked at the frameworks and structures it has everything it needs to grow and build, to become bigger and more successful. I looked at it and thought it was a unique opportunity for me to come into such a healthy and well-run environment. Often, when managers get an opportunity to come into a club, it is under fractured circumstances. When I spoke to the guys here it was a really healthy, positive and unique opportunity."
That opportunity does come with a caveat; Mark starts his tenure as manager whilst the players are on their summer break, which makes assessing the squad a challenge. That said, the current club staff seem to be helping Mark get a grasp of where the squad is currently, and his own knowledge of the game certainly helps.
"I'm very fortunate with the guys in the background and the departments we're working with. They're really proactive with looking at players and previous games. The club were very busy doing their thing last year and I was very busy in my role with Birmingham, but from the outside looking in, I was aware of Lincoln as a club and the players. I'm in and around the footballing pyramid, so I'm aware of the players in terms of their abilities.
"Once this process gets going and fast forwards it's just about getting to grips with everything and trying to get to know them as well as I can."
It's not just about getting to know the current players; there's also recruitment to consider. Much has been made of our recruitment over the past couple of years, and in recent weeks some untruths have been mentioned on social media about who approves the deals at the club. Mark explains how he is involved with the recruitment process, whittling down long lists of players on whom we have done due diligence to add to his squad.
"It (recruitment work) has been really positive. It's another attraction, we have an outstanding recruitment department which I think has been evident over the last few years in terms of bringing players in and maximising loans.
"Before I came in those processes with Joe and Marc were already a long way down the line. They were creating their long lists, to enable us to make those lists into shortlists, so it's been very easy for me to be a part of that. We're just working hard and cracking on and focusing on targets, what we need to do, who we want and how quickly can we get them in. The club was already down the line with the long lists before I came in anyway."
Once the squad is in place, Mark will get to demonstrate his own abilities on the training field. A Head Coach role is not unusual at Lincoln, we had a Head Coach as far back as 1994 and in essence, our the last manager filled the role in all but name. However, as the title suggests, to be a Head Coach you need a strong coaching background, and Mark's journey started more than a decade ago.
"I worked with a manager, I won't throw names about, but I had a meeting with him around 30 years of age. It was a loose, friendly chat that opened my eyes. He was just someone I really respected and he indicated to me I could have a good future as a coach. It was something I'd never thought about. It got me thinking about the next part of my life. Nobody is Peter Pan, and it was something to focus on as I moved forward."
For the record, around that time Mark was managed by Peter Taylor, Neil Warnock and Dave Jones, all very good managers and football people.
"Then, Paul Jewell at Ipswich had a big role in pushing me into that coaching route. I felt I still had a few years left to play, but Paul was very proactive in getting me to continue with my badges. He basically talked me into it, I'm not sure he thought I'd be a good coach, or I wasn't good enough to play in his team anymore!"
In his entrance interview, Mark revealed that he was given a coaching role with Ipswich's first team, but he quickly stepped back and went to coach younger players. It feels like a bold move at the time, but he says having been an exciting young player, he saw parallels between starting out then and starting as a coach.
"I was fortunate enough to make my debut as a 16-year-old boy, you're put in the team because the manager sees you've got something. At that point in your career, you are ultimately just potential. For me, it's no different when you start off coaching. I was very lucky that I got a first-team coaching job but I was working with a really experienced coach and I realised I just had so much to learn. In a nutshell, I just went back to school to learn my trade, maximise myself and start my coaching journey.
"I actually took myself as far away from the first team as I could. I knew I wanted to be a first-team coach, but I took myself as far away from that as possible to start my journey. Because of that, it's been ten really enjoyable years. Without that, I wouldn't be sitting here talking to good guys like yourself today."
The questions keep coming, but at no point does it feel like he's eager to get away. In fact, it's quite the opposite, as the interview goes on I realise my nerves are gone. It's little things, like the Paul Jewell joke, and laughing off my dog barking in the background. Clearly, Mark is at ease chatting to people, and that bodes very well for when he meets supporters.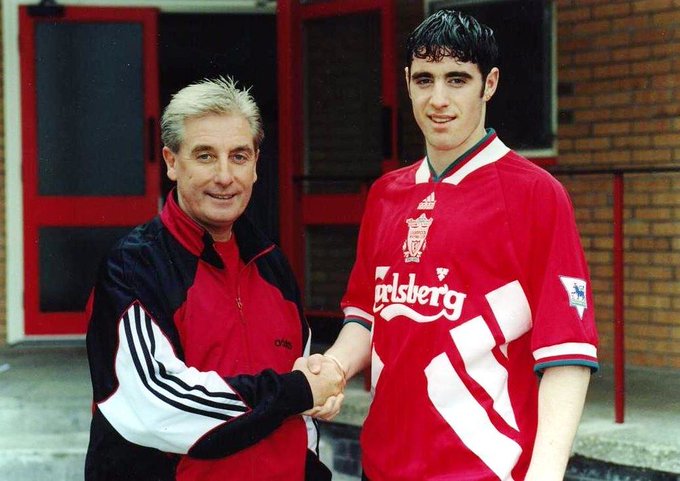 We move on to his own career, and again his explosion onto the scene at Liverpool. I wonder, as a young player who had a lot to deal with at a tender age, did he feel well-placed to help our own crop of young players deal with the pressure of first-team exposure?
"I do hope so, in terms of having lived their journey, being through it and coming out the other side of that. It's something I'm passionate about, the youth side of football and improving players. It's not just improving them as players, there's a big difference for me between being a good coach and a good trainer.
"A good trainer is someone who puts on good sessions on the grass and people enjoying that. A huge part of coaching is connecting with people, and building relationships; those relationships off the pitch are vitally important. If you're good on the pitch, but not off the pitch, it erodes that connection. Those things I'm really passionate about, it's not just about the football side of things and I do believe, with my experiences, that I can help develop those elements."
By now, I'm getting deep into my questions, and I do wonder how a new manager with less than a day in the job will take a question about tactics. For me, and a few nerds like me, setup is hugely important and at Macclesfield Mark played a 4-1-4-1 (which is also a 4-3-3 depending on how high the wide players are). There are certainly a few of us eager to know if he fancies the same approach here.
"That's a good question, every coach will have a particular style they want to play and shapes they want to gravitate towards. I'm a huge fan of 4-3-3, 5-3-2, 3-4-3 and variations of that. If you look at the top managers out there today, they all have their own styles and shapes and I'm no different to that.
"The great thing about Lincoln is we have the players that can play an attractive brand of football and we can be flexible to the shapes we want to play. We have a pitch that's conducive to playing good football, so I won't veer from what I tried to play at Macclesfield."
"Unfortunately, when I got there it was the middle of January, the pitches were awful and there were other aspects that were difficult as well. Still, we absolutely want to play an attractive brand of football and we have the facilities and players to do that and be successful with it."
Of course, attractive football is something that will get fans on board, especially if it is winning attractive football. The connection between the previous manager and some fans wasn't the best (unfairly so in my opinion), but one way Mark can certainly endear himself is by finding a way to connect. It seems that is also at the forefront of his mind as we head towards the new season.
"The fans are an absolutely vital part; no club survives without the fans and they're the core of any club. It's important that with any group of fans we give them something they identify with and that they can be proud of. We want to inspire the next generations. This club has got huge potential to grow when you look at the numbers coming through the gates compared to five or ten years ago. I want to play a huge part in continuing that growth with the club in terms of bringing fans through the gates.
"I know it's an amazing atmosphere on a matchday, I know we maximise the capacity of the stadium, it's the best in the league for filling the capacity. It's something really evident to me and to people in football and it played a huge role in me coming here."
I reach the end of my questions, bar perhaps the most important. In an interview after joining Liverpool, Mark told the world how he went home from training and watched Tom and Jerry cartoons. Was he still a Tim and Jerry fan?
"I am still a Tom and Jerry; you are a Statto for remembering that! I've got young kids now, but it's Blaze and the Monster Machines and Paw Patrol now. You can't beat Tom and Jerry!"
With that, I thank Mark for his time and am surprised to see a good 15 minutes have passed. Throughout he was passionate and engaged and I got the impression we have a figurehead who will always speak well and represent the club in the right way. I also felt I was speaking to an intelligent man, his words were clear and concise and he avoided the obvious cliches. The best way to describe it is this; all his answers felt as if they'd been thought out before he delivered them, but he hadn't seen the questions. that, in my eyes, is the sign of an intelligent and considered individual. It also felt as if he is as thankful to be managing us as we could be for him coming here, and I liked that. It felt like he respected everything that had come before, and wanted to continue to build.
During our last upheaval, that wasn't always the case; we had to transition from one successful era to a new era and in doing so, it was very much 'out with the old'. I'm not sure that's the situation here, that's not Mark's intention. Instead, he wants to take the foundations we have in place and build upwards. Don't be fooled; the foundations are there. We do have a decent squad of young players and one or two senior professionals who can carry us forward.
Yes, recruitment is important now and of course, we need to move forward rather than stand still. However, after this morning, I don't feel we have 'the guy who won one in 12 at Macclesfield' in charge. That's the lazy headline, the easy stat to find on Wikipedia. It's not reflective of who Mark Kennedy is, or seems to be to me.
A week ago, I wasn't thrilled with him being connected to our Head Coach role. Yesterday, I felt more positive, and as I sign off this article, I feel energised and (being honest) excited. We're stepping into the unknown, yes, but we're doing it fronted by a man I think you'll all find endearing and likeable. That alone won't win you points, but it might pull together an often fractured fanbase and if we're all together, in the stands and on the pitch, then I think we can move forward. Plus, he clearly knows his own journey and has taken a coaching path that leads him here.
You never know, it might just be an inspired choice by the board, once again.