There's only so many passionate and emotive blogs I can write before they become irrelevant. There's only so many times I need to wax lyrical about what we're seeing at Sincil Bank. I don't need to point it out, 1068 of you saw it for yourself tonight.
My job is to simply record what is happening so we have a permanent reminder, so that when the loco stops, wherever that may be we have reference to just how good things have got.
Firstly let me address the elephant in the room (my room, not yours). I wasn't there tonight. 1068 of you led an imp-vasion of York and I wasn't amongst your numbers. It isn't that I'm a fair weather follower, far from it. Sadly I suffer on occasion from a bad back, and tonight a car journey simply wasn't an option. I spent the evening listening in agony to the dulcet tones of Mr Makepeace and Mr Thompson, wishing that I was experiencing the euphoria that you guys were.
1068. Let that sink in. That is more than seven National League teams average at home, and if you take away following into account it's probably more than ten or twelve National League teams's home support. Dagenham get 1500 on average at home, and most of their visiting fans are within a thirty mile radius. 1068 is better than League One teams expect to take away. It is three times as many as Scunthorpe, top of League One, took to Peterborough tonight.
1068 is more than North Ferriby and Guiseley get combined, and I don't doubt for those two away trips our travelling contingent will outnumber the home fans. Believe me there's no way I will miss those games, even if I have to take enough tramadol to knock out a buffalo. Even two buffalos, although it might be advisable in that instance if someone gives me a lift.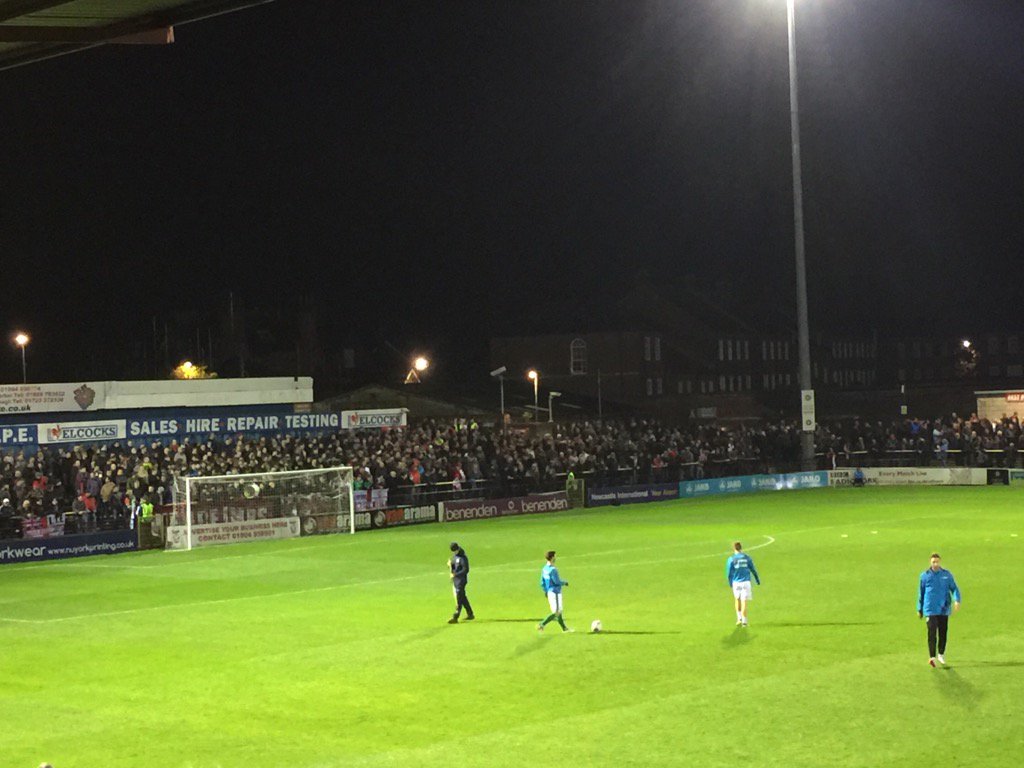 On to the game tonight. We won 4-1, but you know that better than me. We outplayed and outclassed a weak side on their own turf, and their frustration clearly boiled over with that horror challenge on Alan Power at the end of the game. Even when they got a glimmer of light we extinguished it before it even had a chance to flicker properly. We went, we saw and we did the job.
We didn't just win by the way, we won with first team players out of the side. Callum Howe came in and looked every inch a first team regular, Elliot Whitehouse surely staked a claim for a starting place and Terry Hawkridge terrorised their defenders time and time again. Every single Imps player was excellent. I'm going to make my second confession of the night now: I didn't expect it.
Maybe I've seen too much Lincoln City over the years, maybe I've travelled to too many games riding a wave of euphoria only to be brought crashing down to earth. I felt the script was written for us to go down 2-1 tonight, with Robbie McDaid and Sean Newton scoring against us. Instead Newton fluffed his lines and McDaid was anonymous as we simply ran York ragged. It sounded like it could have been six, seven or eight. The saying goes that you can only beat what's in front of you, and tonight we did our job professionally, clinically and emphatically.
Apparently we weren't at full strength, but what is full strength? Callum Howe has been captaining another National League side, Terry Hawkridge has over sixty Football League appearances to his name and Elliot Whitehouse scored for Englan C last week. Is someone honestly telling me they are 'only' reserve players? Of course not.
Someone did try telling me on twitter last night that we rely on three key players, and without them we'd be mid table. I realise Arnold and Anderson have been key to our success, obviously Raggett and Waterfall have been superb, our full backs provide attacking options and defensive cover, we score more goals than anyone in the top five divisions and Alex Woodyard has captained his country. Paul Farman is the best keeper in the National League and even our squad players are a match for anyone in this league on their day.
I wish I could fathom out which three players are stopping us from being mid table.
Not only do we apparently have play-off quality (at least) players throughout our squad, but we also have a potential war chest to utilise come January. It might be Black Friday this week, but for at least one National League club I suspect it will be a black January with us poised and ready to tempt another top player to our ranks. Akinola? Miller? Who knows, just being in a position to discuss the possibility shows you how far this club has come.
I'll get a chance to dissect the tactics on Saturday, I'll be able to offer the usual analysis, opinion and generally bang on about how great things are at the club. However, tonight I'm going to let 4-1 away at York speak for itself.
I am going to end by eating a bit of humble pie as well. I've seen the pictures of the fans crammed in behind the goal, I've seen the images of the red smoke emanating from the collective army of Imps fans. I've vocally opposed the use of pyro before, but you know what? On a wet and cold Tuesday night in York, with 1068 away fans cheering on a convincing and comprehensive win, I get it. I understand it. Lincoln United away in the middle of summer? No. Tonight? Now I understand, to a degree. If we get fined then it's a problem, but until we do I can see why our fervent and dedicated supporters are pushing hard to create atmosphere.
Elsewhere tonight everyone around us won, but very few of those teams keeping pace have scored seven goals away in their last two games, three against the (former) runaway leaders and four against a team that last year played league football. Danny Cowley would like us to keep a couple more clean sheets, but if we score three or four in every game and concede just two or three then we're going to win the league, it is that simple.
I'm going to be frank: I'd wager Maidstone are absolutely shitting themselves. If we carry on playing like we are doing then they're right to be. In fact, if we carry on as we are doing, every single team in the National League should be wearing brown trousers and carrying around a can of air freshener, because we are on a roll. we've got the winning habit.
We're Lincoln City, and this is our time.