I always find it tough writing about a defeat, because I tend to go a little too far towards malaise and misery, rather than being objective.
Today, I have some perspective. My Uncle Malcolm passed away in July and we're burying him this morning, so to a degree, a defeat at a football match feels a bit out of context. That said, the walk from the ground to the car last night felt flat, and only when Dad started talking about today's challenges was it put into perspective. We lost 1-0, it was a tight game that could have gone either way, but didn't.
I'm often drawn to the example of Brentford when discussing football these days. I like how they operate, basing their achievements not on results, but on xG. If they lose seven or eight matches on the bounce, but the numbers suggest they should have got better results, the manager will feel no pressure. If they win six or seven, but are fortuitous and should have been beaten, Thomas Frank has questions to answer. It's interesting to see a club judged not on results, but a metric that determines whether they should have won or not. I was always told the only stat that matters is goals, but it isn't. You can score more goals than the opposition and play badly once or twice, but over 46 games you have to get something right consistently, and that's what we're aiming for. Eleven or so years ago, we played Brentford in the league, now they're Premier League without a sugar daddy, without breaking financial fair play rules. For me, they're doing something right.
Should we have won last night? Probably a draw would have been a fair result, but let's start at the beginning, shall we.
I felt the atmosphere around town was better last night than Saturday; there seemed to be more happy faces, more fans ready to embrace a game of football. Maybe it's the fact it was a night match, always my favourite, but I just felt a little better about things. The crowd of 9,100, with 1,000 visitors, suggests that actually, we had the same home attendance as we did Saturday, 8,100 give or take. That's not bad, but a few wins and an end to holiday season will surely put a few hundred more on that.
I caught up with a few new faces during the course of the pre-match, including Ben Murphy and Andy Sears in Wetherspoons (the only positive of a thoroughly awful experience), Andy Simmons and his family in the queue and a few familiar faces in the fan zone. I think there was less pressure to get around everyone and say hello for this fixture, less pressure for it to be magical as it was the first one back. Instead, it felt like a more fluid matchday, a more normal matchday. It didn't take long to settle back in after a year and a half away, did it?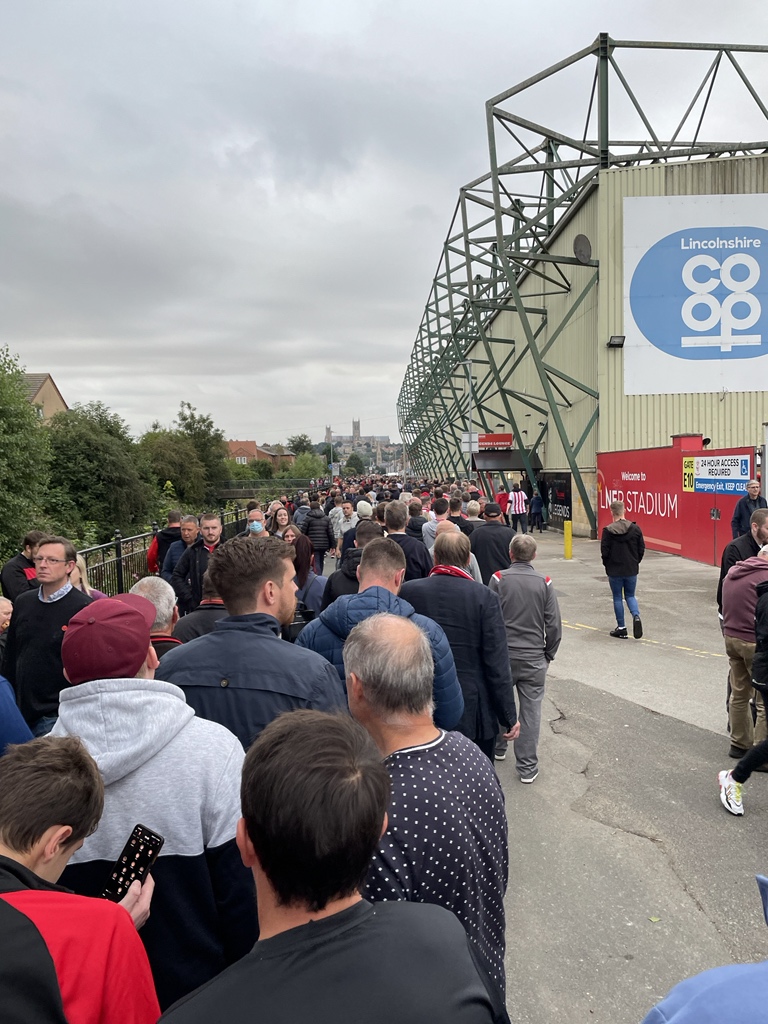 There are some teething problems with the fan experience though, the queues outside the ground are ridiculous at the moment, with one set of turnstiles shut. I'm not sure why this is, but I have seen Liam Scully is looking at remedying the problem for the next home game. It does need changing, we left the fan zone to get to our seats at around 7.20 pm, and I was sitting down just as TJ Eyoma was unveiled. My podcast co-host Ben left the fan zone five minutes later, and missed the big unveil.
Aah, TJ Eyoma. Less than 36 hours after I did a dog walk video where I said I didn't think he'd sign, he pens a 'multi-year' deal with the club. It was a bit of news kept under wraps very well – there was no press release, no mutterings or anything like that. In fact, I think I told several people before the game I didn't think he would sign, whilst the whole time he was kicking about the place. I really liked his reaction on the field; he came out to wave a bit, and by the looks of things, got overwhelmed by the reaction. His capture is a big one, it doesn't entirely solve the squad issues I think we have, (left centre back, up top) but it does strengthen our hand. Last season, he was excellent at centre half in those final few matches, and we're now looking better than we did yesterday at this time.
City started without Ted Bishop in the squad, but welcomed Dan Nlundulu into the fold despite him only hitting the grass on Monday. There's still a makeshift feel to the squad though, no Maguire, Bishop out Nlundulu in, Walsh out and a few not at 100%. Despite that, I thought we had a very good first half against a side far more dangerous than Saturday's opponents. Bolton moved the ball well, looked to exploit the pace out wide, and often found their striker dropping out of the area to pick up the ball. It was basically the same for us, and in the first half, we did it better. McGrandles, Adelakun and Poole all had decent efforts, if not brilliant ones, whilst Bolton were restricted to just one or two.
Our passing flowed brilliantly at times, we looked so fluid and once again, Scully was on fire. He was hungry for something and combined well with Edun on the flank to create a couple of openings. Much of our delivery was crisp and neat, with Poole also impressing on the opposite flank. In the middle of the park, McGrandles is yet to really hit his stride, and Sorensen is a player who either hits a hospital ball, or a wonderful forty-yard ping to feet.
The big star of the first half, indeed the first three games, is Liam Bridcutt. Dare I say, I think he's picked up from last season, but you don't see what he does on iFollow like you do in the flesh. Often, when watching iFollow, you don't see where a player runs from, or when a good move starts it's hard to notice who kicked it off. In the flesh, you see Liam Bridcutt in all his glory and boy, is he a player. He dictates the tempo of our game, he's the conduit for out passing, he decides whether we go right or left. When a defender steps up to attack, Liam Bridcutt drops in and fills the gap.